A few weeks ago, I discussed some surprising disparities between London and the grandest state, but in truth things aren't always that different. There are big and small resemblances uniting my two favorite places as well.
1. Friendliness and good manners are the norm.
People in the UK are generally so welcoming that even your 6th grade cotillion director would curtsey and politely golf clap in appreciation. They're happy to give directions, utterly patient to wait in any queue, and will rush to apologize before you even realize that they lightly brushed your shoulder after holding the door open for you.
Who knows? You might even get a royal on videotape to convince a doubtful friend that your chosen headwear is in fact, "quite dashing."
2. Crazy weather
The first time I visited London while studying abroad our tour guide warned us to be prepared for everything since this city regularly experiences all four seasons in one day. Texas has a similar saying: We have two seasons – summer and winter – and they usually alternate days within the same week. As both the American and English boy scouts would say – Always be prepared.
 3. Passion about sports runs deep.
Clear eyes, full hearts, can't lose – am I right? Football is a religion on both sides of the Atlantic. Sure I'm talking about different sports, but the their respective fanaticisms host some striking parallels:
Dress-up is frequently involved…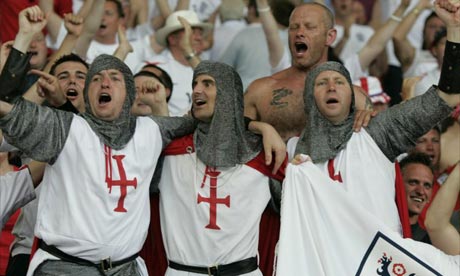 …as is make-up (excuse me, face paint).

Also, singing.
 4. Being a pedestrian means gambling with your life.
The root of the risk here is very different. In Texas, people in cars don't know what to do when encountering people not in cars because it's such a rarity. Once you get out of college campuses and downtown arts districts, you're not likely to see many people walking on sidewalks. In London, the opposite problem is true. There are way too many pedestrians, many of them tourists who just aren't sure which way is up. This leads to drivers becoming pretty aggressive just in an attempt to get down the block. In either place, if you're a person walking around automobiles, keeping your eyes out of your iPhone is a key survival technique.
5. Delicious Sunday food traditions
In Texas, Sunday lunch is arguably the most important meal of the week. You typically go to church in the morning then head home for a big family meal. In England this is known as Sunday roast. There are certain foods included in a traditional roast, most of which you would also find on Texas tables– stuffing, vegetables, gravy, mashed potatoes, and (of course) lots of roasted meats. It's always good when yummy food knows no geographic borders.
 Texas and London- completely different places, yet still able to find common ground. Chalk one up for humanity, y'all!