It's going to be a hot summer, but don't go to the movies if you want to cool down. Here's our latest HOT-AS-HELL list, summer blockbuster edition!*
*And Michael B. Jordan
MILES TELLER
Go tell(er) it on the mountain—Miles is the dude next door. He's smoking hot, but his personality is so down to Earth, you would swear he was already your boyfriend. He's the kind of guy you'd see out on a bar on a Friday night—the kind of guy you break your neck dancing in front of to get his attention away from the football game. Maybe the neck brace will catch his eye?
SEE HIM THIS SUMMER IN:
Divergent
Two Night Stand
JERROD CARMICHAEL
Jerrod carved out a space for himself between Zac Efron's abs as the charming and adorable Garf in this summer's "Neighbors". He's a stand up, a writer, and an all-around GOOD LOOKING DUDE. It isn't easy to peel your eyes off of Efron for even 2 seconds, but Jerrod had us looking, and that is a huge deal.
SEE HIM THIS SUMMER IN:
Neighbors
DANE DeHAAN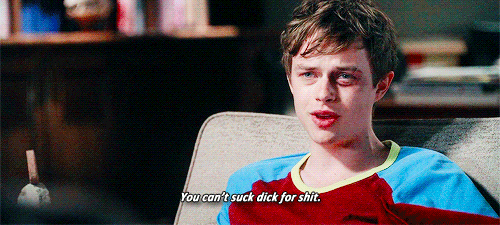 This Green Goblin can gobble our… green… any day. PIERCING. That's the only word you can really use to describe Dane. PIERCING blue eyes, PIERCING gaze. CHISELED features. That's another one, chiseled. BOYISH good looks. FIERCE personality. MYSTERIOUS. Those are all good words, but we'd prefer it if he left us speechless.
SEE HIM THIS SUMMER IN:
The Amazing Spider-Man 2
ANSEL ELGORT

Ansel crashed quickly into our hearts and nighttime personal activities when he started showing up in Carrie, soon followed by previews for "The Fault in Our Stars" as Shailene Woodley's star-crossed lover, so you can imagine our delight when he showed up as her BROTHER in "Divergent"! Who hasn't wanted to fuck their brother? No one's raising their hands over here! #surfgort
And that penetrating gaze?
SEE HIM THIS SUMMER IN :
Divergent
The Fault in Our Stars
MICHAEL B. JORDAN

He might not be the slam dunk champ, but this Michael (B.) Jordan does lay ups right into our hearts! From his break-out role on "The Wire", to his heart stopping break-out-again role in "Fruitvale Station", to his break-out-one-more-time role in "That Awkward Moment", Michael continues to re-engage us with his relatable characters, electric charisma, and that got-damn face.
SEE HIM THIS SUMMER IN:
NOTHING! You have to wait to see him in The Fantastic Four in 2015. Oh well, it's probably better to see him on home video, anyway.
THEO JAMES
THE-OH, YES PLEASE! This British boy can do a lovely American accent, and you can stalk his broody brown eyes on Downton Abbey when he's not blowing up the big screen. Plus, action movies mean more TOPLESS scenes. Shaun says, "SEX SEX SEX SEX, YOU ARE THE HOTTEST THING I'VE EVER SEEN, LIPS LIPS LIPS, TIP TO TIP!"
SEE HIM THIS SUMMER IN:
Divergent
XOXO,
RAT CITY RADIO